It's rare here on the mountain. Fog. Not like Detroit. So many foggy days, foggy walks to school. Foggy drives. In 1979 my best friend Bridget and I drove in a fog so dense and large and lasted so long that we came to know it, and we named it; Fred.We were on a road trip to Bessemer, Michigan to find snow, as there wasn't any in southern Michigan that year, and we were determined to use our holiday break to find it, or to simply find winter.
We called the local news channel, and asked for the weather department. Again, this was 40 years ago. No internet or app was available, let alone invented, to put this task at our fingertips. The 'weatherman' told us that the only part of Michigan with snow was a small city in the furthest most western point of the upper peninsula. And off we went. Lo and behold there was a Youth Hostel, and as our passes were still active after our travels in Europe a year before, we were set.
We had an uproarious time, amusing our fellow guests at the local Youth Hostel (above) with our desire to ice skate, not ski, as they were all doing.  We skated on inland lakes and ponds, we slipped our way through the small city streets, and drank enough beer for probably a life time.We duly celebrated snow and winter and healthy young bodies and being young women wealthy enough to have their own skates and enough cash for a spontaneous road trip. Independence, we discovered, over and over, was simply a lot of fun! But it was time and we headed back home.
Then Fred. The dreaded Fred.  We skated our away east, travelling on Highway 2, headed to the Mackinac Bridge, and on our travels we saw frozen lakes that enticed us to pull over, lace up, and skate. But winter's dark evening came quickly, and we still had the bridge to cross and the lower peninsula to traverse, so we began more serious driving. As we entered the top of the mitten, we met Fred. Coming upon a patch of fog was nothing new to us girls, 19 at the time, and having grown up our whole lives in Detroit, we knew weather, and we knew fog. But what started as a simple patch of fog, no biggie, instead grew to be what was apparently a significant swathe, one that encompassed miles and miles and miles. We grew giddy and a bit disoriented.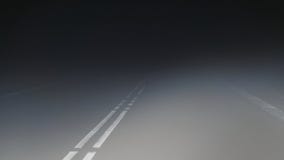 Asking again and again, of each other, or no one, are we still on the right road? Can you see anything? How long can this fog be? I'm a bit of a nervous Nelly, as I'd been in two major crashes by that young age, so it took me a bit to relax into it, but Bridget, more confident, responded with increasing sarcasm. Once I relaxed into the oddity of the situation, I adjusted to the danger. Assessing that there was little we could do, as long as we proceeded slowly. The fog was dense and apparently permanent.
So we sang to it. Made up stories about it. Befriended it. Fred was obviously not going anywhere, and we were not going to give in to his bullying us. Onward into the thick mass of incessant invisibility we went. Laughing our heads off as we had pretty much done the entire trip anyway.
Finally, some two hours into our southern half of the trip, Fred disappeared as quickly as he had shown up. Like a bad boyfriend, no doubt. We cheered, and shook our heads, feeling as if to have awoken from a dream. Sleepy and surreal, suddenly we are in the bright lights of a major highway with visibility as clear as crisp winter nights can bring.
We adjusted to his disappearance smoothly and proceeded on to Detroit, arriving in the wee hours of the morning, sunrise still well beyond our return, but sleep in our own warm beds a welcome we appreciated.
Bridget and I used our newly formed travel muscles. Skills we had developed traversing Europe in 1978 by foot, rail and bus. Fearless. Confident. No fog or haze too big or thick for us.
Now middle aged, living across the country from each other, definitely the city mouse and the country mouse, or mountain mouse as I could be considered. We try to see each other as often as we can. Having had husbands, children, careers. Heartbreak and success. The fog launched us. Coming out of it perhaps a metaphor, as cliche as it might be. The fog of youth, and then the straight path on a clear night to the next destination.
In a matter of a couple years, I'd be in Arizona, she'd be in New York. Lives ahead, then, now, behind, all those years. And then history repeats itself. Oh, perhaps not the fog exactly, or metaphorically, but my  girls took off on a trip together this summer, first Iceland, then Uganda, and the Icelandic leg was ironic as my trip with Bridget had also started there back in '78.
Water on A Duck
Sometimes I feel
like a duck dipping
my bill beneath my wing
to the safety hidden there
musky like fear
essential as blood
I coat my feathers
I pray for patience
and wish I could waddle away
but my fuzzy ducklings model
only me, my oil
repels only water
I'll just wrap these chicks, yellow
and dumb as innocence
under my wet wing
hoping I'm not too soaked
to soar
My own mother had been worried and nervous, and mostly in disbelief that her seventh daughter was off to  travel lands faraway on her own. I think she was equally awed, and 'oh dear'd'. I sent her letters often, and I called once a month. How funny to think of it, now, communicating that way. Letters and phone calls in phone booths or call centers. The girls "whatsapp'd" me last summer. (Wow, making verbs out of applications).  Only after the trip did we learn that the same application allowed us to talk and to skype. Maybe we didn't figure it out on purpose.
I am sure they had their "Fred the Fog" moments and survived them, surely to someday tell their own kids, although they swear they'll never have any. Or to blog. Who knows what the medium of the moment will be in thirty years, when they are in their 50s. Hopefully keeping their eye on busy 'Mumsicle,' when it will be my turn to travel again, and check in with them. "Mom where are you?" Ha. Right here, honey, where I always am.